Acknowledgements
Ngā Maunga Whakahii o Kaipara would like to acknowledge key support from Tū Manawa Active Aotearoa and North Harbour Sport which has helped to enable the delivery of the Kaipara Kapa Haka Festival 2023. We would also like to acknowledge the many schools that have kept this kaupapa alive. Particular acknowledgement goes to Mr Richard Nahi for his many years of contributions to the kaupapa.

Helensville Primary School
The Kaipara Kapa Haka Festival 2023 will be held at Helensville Primary School located at 29 Rata Street in Helensville. Check out the site map below for more details.

Performance Length
Each group will only be allocated 20 minutes on stage and 3 minutes to exit the stage. This includes whānau waiata tautoko if you have indicated on the registration form that your whānau intend on performing one. If you exceed the 20minute allocation time, your whānau will not be asked to join your group on stage for the Whānau Waiata Tautoko. Please keep this in mind when putting together your bracket.

Whānau Waiata Tautoko
It is a Kaipara Festival tradition for the MC to ask the whānau members of the group to join the group on stage to sing one last final waiata. If you have indicated on the registration form that your whānau supporters do intend to sing a waiata tautoko, please ensure your whānau are aware of this and are prepared. Ask them to be ready for the MC to call upon them and to move quickly so as not to hold up other performances. If your group exceeds the performance time limit, your whānau will not be invited on stage to sing a waiata tautoko.

Performance Times and Arrival Times to the Venue
Once the performance times have been completed and posted onto the website, all groups have until 3pm Friday 3rd March 2023 to finalise their time. Swapping or exchanges can be negotiated between schools/ organisations.
However, if the organising committee is not informed of these changes before the date previously mentioned, the performance schedule will remain as stated on the website. All groups are expected to report to the backstage manager no later than 1 hour prior to their performance time. If there is a problem on the day, groups must contact the backstage manager as soon as possible.
Groups cannot change with another group on the day. In the event that the festival is running ahead of schedule due to a last-minute withdrawal, the backstage crew may ask your team if you are willing to perform earlier. You have the right to refuse so that your group can perform at their scheduled time. Please let the organising team know as early as possible if your group is not going to perform.

Go back to the top

Stage Flow on the Day
10 minutes prior to your performance your group will be directed to a holding area behind the stage. Groups must be quiet in this area in respect of the group on stage performing.

At your group's performance time, your group will be guided to the side of the stage. The group should then exit the performance stage
Buses / Drop-Off Zone
Please ensure you let us know via the registration form if your group will be travelling by bus. The drop off zone for performers will be the school BUS BAY located on the site map. This will be for buses and minibuses only, not individual vehicles. Buses will then be directed to park at Rautawhiri Park.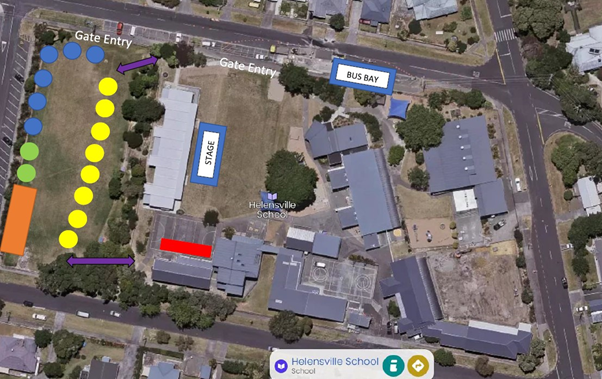 Parking
Parking overflow will be at the Rautawhiri Park. Please ask your whānau not to park in the bus bay as this will be kept free for group pick-ups and drop offs. A shuttle van will commute between parking at Rautawhiri Park and Helensville Primary School bus bay approx. every 15mins (see schedule below).

Shuttle Timetable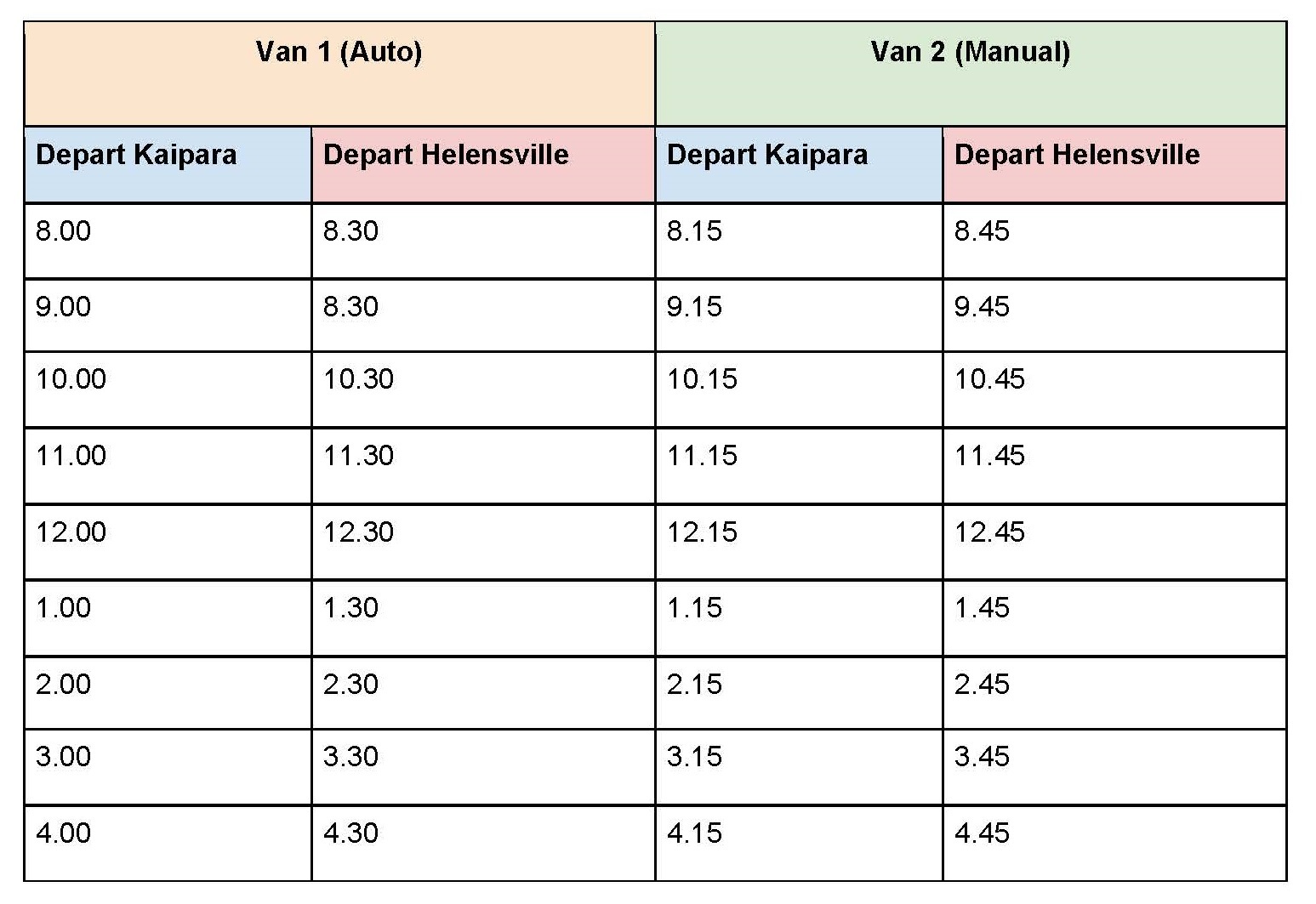 Pōwhiri
It is expected that all groups attend the pōwhiri or send representation to the pōwhiri which starts at 8 am. The kawa for this pōwhiri is paeke. The pōwhiri will take place in the area in front of the stage. The process is as follows:
- Wero
- Karanga
- Haka Pōwhiri
- Harirū
- Whaikōrero (tangata whenua)
- Waiata tautoko
- Whaikōrero (manuhiri)
- Waiata tauoko
Kaumātua
There will be a dedicated room for kaumatua throughout the day. Tea and coffee will be available for them as well as a place to sit and relax overlooking the field and stage.
Stall Holders
Please contact

whānau@kaiparamoana.com

if you are interested in providing a stall. If you are intending on holding a food stall, please note that this is a fizz free event. Location information will be sent to you when your stall/hub is confirmed. Bring your own gazebo's, tables, chairs, extension cords, adapters and anything else you will need.
Fizz Free
The Kaipara Kapa Haka Festival 2023 is a fizz free event. No fizzy drinks will be sold on the day.
Toilets
Toilets will be available throughout the day. Kaumātua toilets will be located next to the staff room.
Rubbish
Bins will be provided for all rubbish and recycling. Please keep our school clean and tidy so that normal school activities can continue the following week.
First Aid
First aid facilities will be available throughout the day. Ask a helper wearing a Kaipara Festival printed t-shirt should you need help.
Ngā Ringa Manaaki
We will have many helpers available on the day. They will be wearing a Kaipara Festival printed t-shirt and some will wear high visibility vests. They are here to offer any tautoko and help you may need.